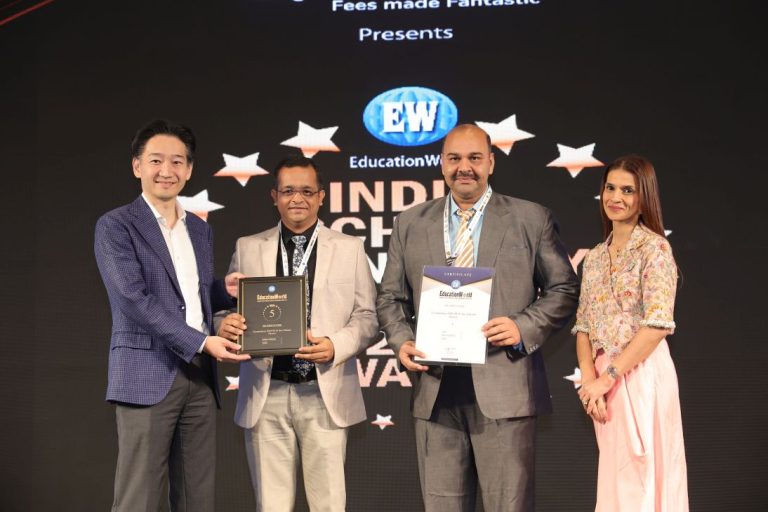 INDIA SCHOOL RANKING 2023-2024
The inherent curiosity and desire for wisdom drive each one of us to unravel the ravel and uncover the truths and mysteries of existence. The ability to perceive, acknowledge, and make sense of previously unfamiliar or concealed aspects of reality has always been the intricate ability of the human race. The embodiment of the transition from ignorance or obscurity to clarity, understanding and illumination can go a long way back in deciphering the concept of –
1. Unknown to Known
2. Unidentified to Identified
3. Non-existence to Existence
4. Darkness to light
Something that is known today, maybe Unknown earlier signifies sheer ignorance or inability to acknowledge its existence. Similarly, Gyanodaya SMVM Hr. Sec. School, Khurai has always been and will be the centre for educational excellence, it's only lately that it is getting its due recognition. As rightly said, "Keep working in silence, and let your success make the noise. One day, it will." – Frank Ocean
In the words of Tom Hanks, "A hero is somebody who voluntarily walks into the unknown". Under the abled leadership of our Principal Dr. Abhinav Shukla, whose vision of providing the best educational practices has been the catalyst in steering the progress vehicle and has led the team of SMTs, Faculty and Support staff in achieving grandiose success with assiduous effort. He has been cardinal in aggrandizing the goals and objectives to make the school a place most favoured by students, for Gyanodaya SMVM strives to bring holistic development in the child, where the child is prepared for the future with 21st Century Skills. He truly believes in team building and advocates fervently for teamwork which entails deep planning, execution, implementation and eye-to-detail grassroots-level hard work, passion and dedication.
Success is the byproduct of persisting in the face of failure while progressively realizing a worthy goal. In the words of Bobby Unser – "Success comes from having, dreams that are bigger than your fears". We must forever conduct our struggle on the high plane of dignity and discipline.
Friends, well-wishers, and all stakeholders of Gyanodaya SMVM Hr. Sec. School, Khurai, we take pride and with beatific yet filled with sublimation of gratitude and honour, divulge how assiduously we have strived to be recognized as
#1 in MADHYA PRADESH, #5 in INDIA in the Category of SDGS COMMITTED SCHOOL.
#1 in SAGAR AND #15 in MP in Category DAY-CUM-BOARDING SCHOOL
as per the EDUCATION WORLD INDIA SCHOOL RANKINGS 2023-24.
We would like to express our reverence and gratitude to the existing and old staff, who have contributed directly, and indirectly to the august success of getting recognized countrywide for the decades of hard work, sacrifices and deliberate positive intention to bring joy and ecstasy to the people of Khurai, Madhya Pradesh and India.
This Institution was established way back in 1943 with the prime objective of educating people with good moral values and has been the epitome of spreading best educational practices and values to students from all castes, creeds and faiths. As the Chairman of the Gurukul Trust, Shrimanth Dharmendra Seth has rendered unwavering support in every vertical to ensure the best students can have.
Principal, SMTs, Staff and Students of Gyanodaya SMVM Hr. Sec. School, Khurai with much reverence offer this award and recognition to our Chairman Shrimanth Dharmendra Seth whose undeterred contribution of valuable suggestions, insight and dedication to providing the best a school can provide to its stakeholders is worth mentioning and demands a wide mass recognition in the field of education.
Though our hearts are filled with ecstatic emotion, this is another milestone, Gyanodaya SMVM Hr. Sec. School, Khurai has achieved and more to come its way, for we have, nor will be settling ourselves for mere recognition, reiterating once again the "Unknown to Known" – we will keep striving for the betterment of our prime stakeholders "OUR CHILDREN" under our care.
With heartfelt best wishes to all the stakeholders and well-wishers.
Team Gyanodaya SMVM, Hr. Sec. School, Khurai